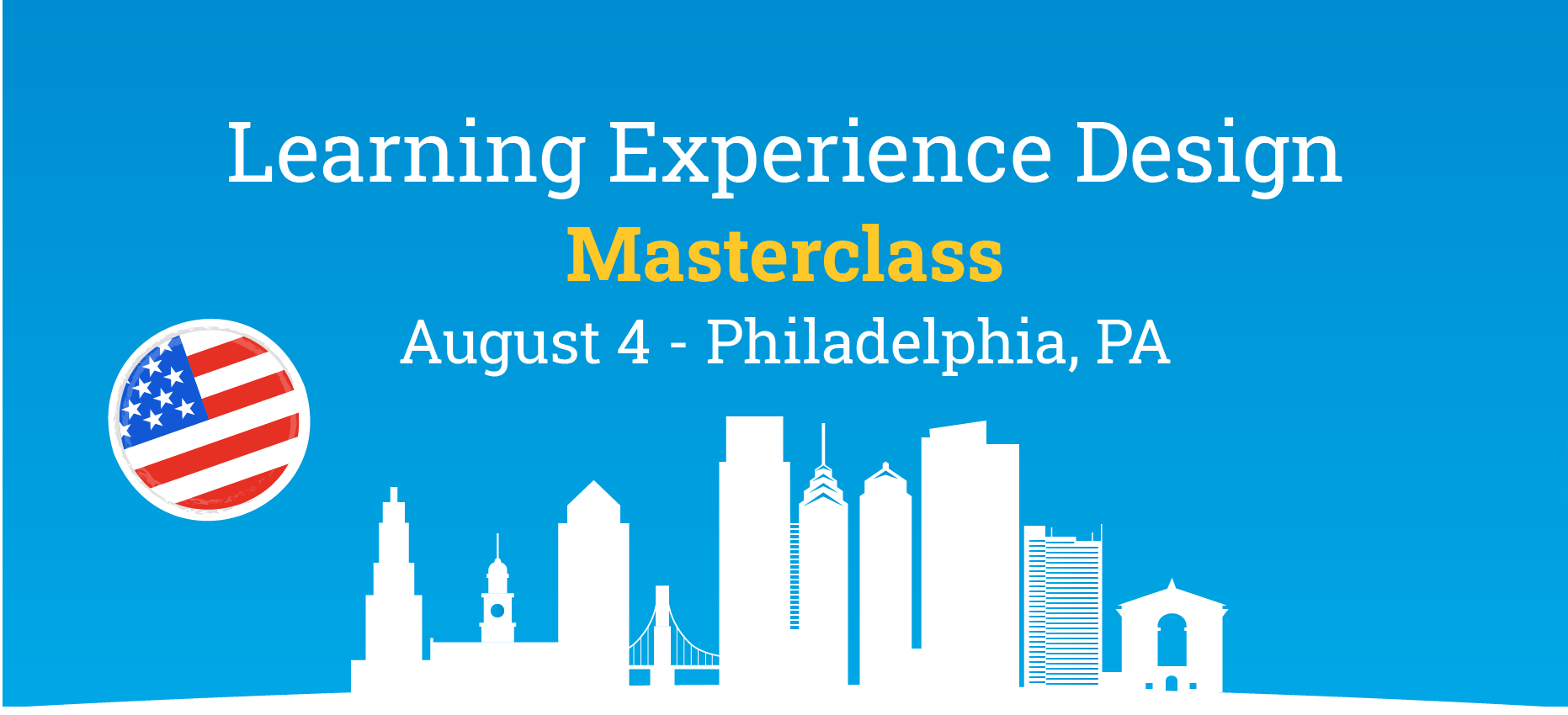 Aug 4 - LXD Masterclass in Philadelphia, U.S.A.
Create powerful learning experiences that engage, motivate and inspire learners in a memorable and meaningful way.
Learning experience design (LX design) is a versatile and challenging design discipline. It requires different types of expertise both from the field of design and the field of learning. During this intensive masterclass you'll get familiar with all the fundamentals of LX design and bring the worlds of design and learning closer together.
Prior knowledge of LX design is not required for this masterclass, yet it is very welcome. Generally participants have different levels of expertise in LX design. The variety in participants' backgrounds offers a wealth of prior experience to learn from. And there's time to ask questions and dig in deeper to the specifics of LX design that matter to you.
Program outline:
During this one-day masterclass you will work on collaborative challenges using design principles, methods and tools like the Learning Experience Canvas. It is a hands-on fast paced program that is aimed to train and apply the theoretical and practical aspects of LXD.
Morning
Check in with coffee and tea
Introduction to learning experience design
Design sprint: From generating ideas to developing a prototype
User testing and feedback
Afternoon
Introduction to the Learning Experience Canvas
Design research and analysis
Design strategy
Mapping out a learner journey
Q&A and reflection
Lunch, snacks and drinks are included.
Important: Seats are limited to thirty as we want to provide a personal experience to all participants.
At the end of the day we will take time to reflect on what we've created and learned. This is a great moment to get useful feedback from the trainer and other participants. The Masterclass is conducted by LX Design pioneer Niels Floor.
For more information on the program and tickets, visit the Eventbrite page via the button below!
Get your ticket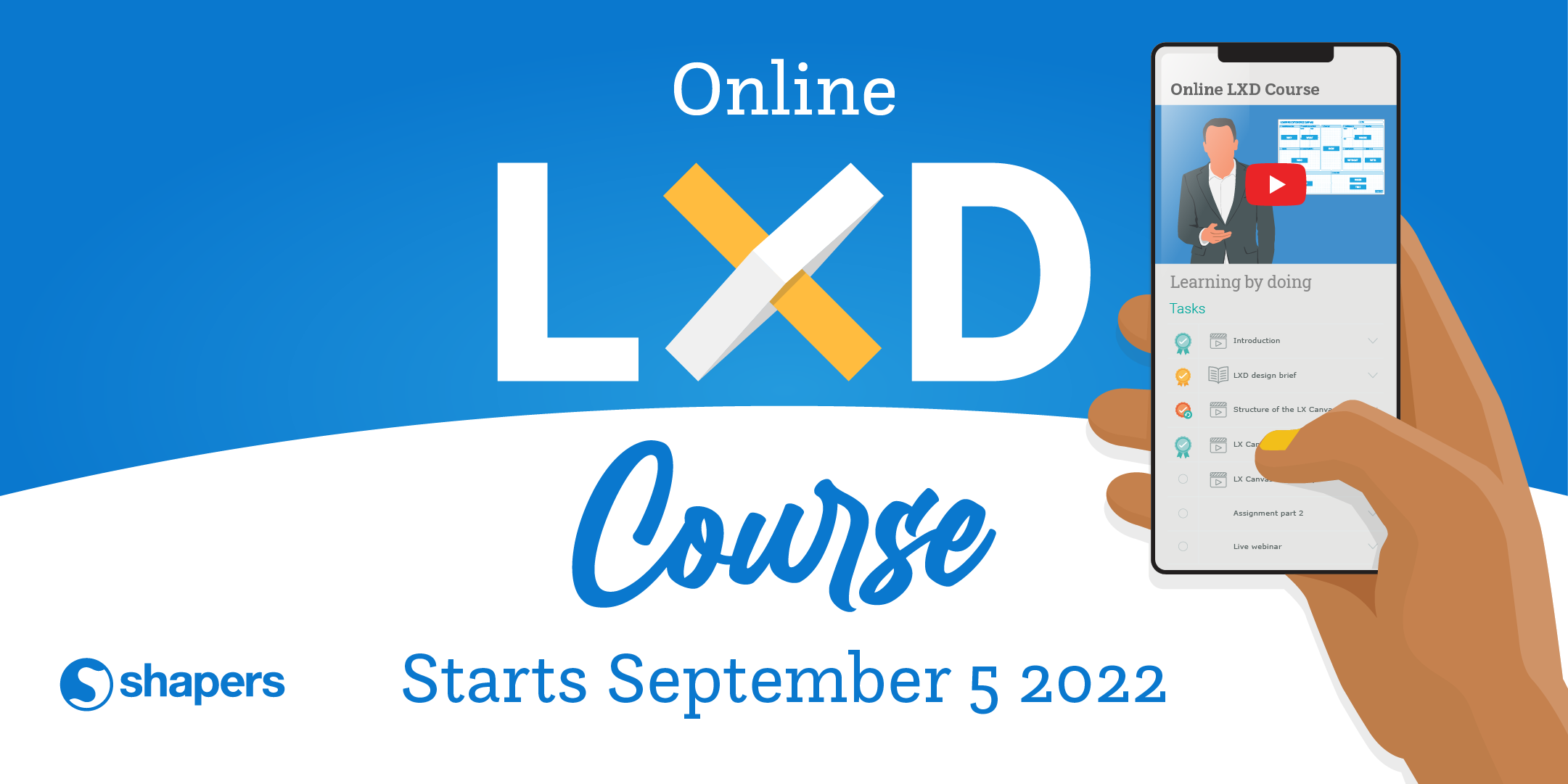 LXD Online Course in September
Join us from anywhere in the world to learn with the pioneers of learning experience design.
Over the last couple of years we've had many requests to provide long distance learning experience design training. These requests were scattered all over the globe and with our online course we will bring these pioneering professionals together.
The reason we created this course is simple: we want to provide a great learning experience that can compete with real world training. And that takes time (and money). We took what we've learned from all our previous training experiences and merged this into this course. Obviously this is not a standard online course. We do offer valuable online resources, but the focus is on the application of learning experience design. You will design actual learning experiences and our trainers will guide and support you throughout your learning journey. They will answer questions, provide feedback and assess your work.
Now we are proud and excited to present our course for the fourth time. We've improved parts of the course based on feedback from the previous participants as we continue to deliver the best possible learning experiences.
Program outline:
Week 1 - The power of experience
Some experiences stay with us for the rest of our lives. Other experiences are simply forgotten. We are going to examine the power of the human experience and figure out what makes an experience memorable.
Week 2 - Learning experience design fundamentals
As a learning experience designer you need a strong foundation. That's what we will focus on this week. It will create a deeper understanding of what learning experience design is and how it relates to your work.
Week 3 - The application of learning experience design
The only way to learn how to design is through design. It's time to start working on the design of a learning experience. What is the process, what are the tools and how do you turn an idea into an actual learning experience? These questions will be answered in week three.
Week 4 - Share, inspire and grow
The final week is about delivering a great learning experience, sharing the results, inspiring others and growing as a professional. This is the final step of this course and hopefully the first of many more into the field of learning experience design.
What to expect:
Four live webinars of 60 minutes each*
Weekly assignments
Online support with StudyBlend which includes:
Your personal learning path
Digital resources
Peer feedback
Personal support from our team of trainers
A certificate of completion**
The amount of time you'll spend ranges from 3 to 8 hours a week depending on how much effort you put into the various assignments. This is a synchronous course so you have weekly tasks with clear deadlines that are the same for all participants. We use your input for our weekly webinars so we can share your creations and questions with the rest of the group. Having live interaction is a vital part of this course as it enables us to learn from and with each other.
* Webinars will be held on Fridays at 3.00 pm (CET) and will be recorded to watch later.
**if you have successfully completed the course.
Reserve your spot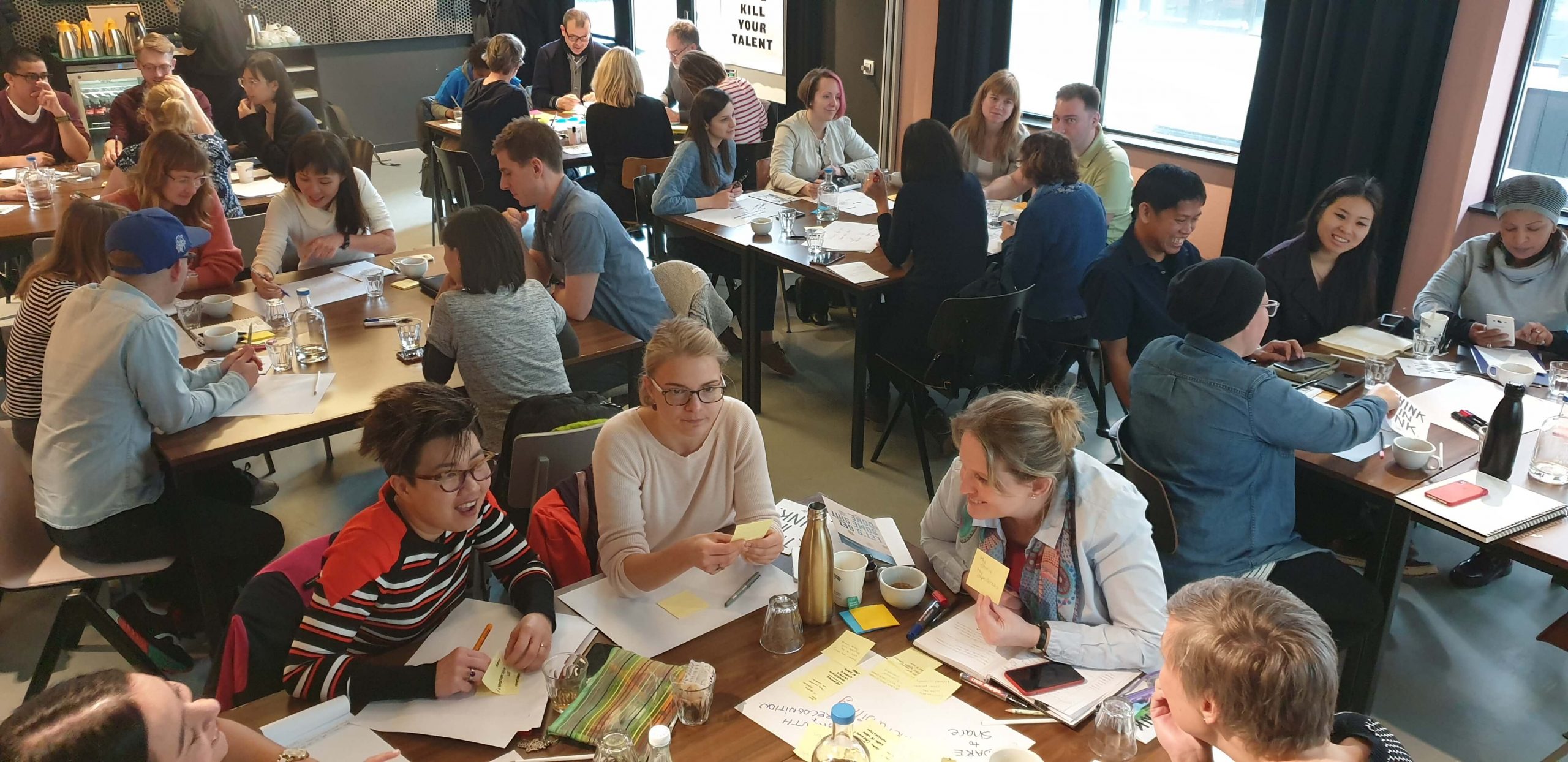 Learning Experience Design Masterclass
Are you interested in a Masterclass on LXD at your company, school or other institution?
Feel free to contact us and we can discuss what's possible online or offline.
Contact us for a masterclass